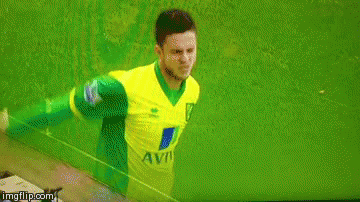 With time running out in yesterday's 0-0 draw between Norwich and Cardiff, the Welsh side's keeper David Marshall threw the ball out of play so that Canaries midfielder Alex Tettey could receive treatment.
When the ball was return to play by Norwich, Leroy Fer decided to show that he's Fer by name but not fair by nature.
Rather than observe fair play protocol, the Dutch midfielder simply put the ball in the back of the net.
Marshall thought he'd found himself at the centre of a second controversial goal in as many weeks.
Despite a scrap breaking out on the pitch, referee Mike Jones managed to restore the peace by disallowing the goal. He concocted a strange explanation about not signalling that the throw-in could be taken.
Most onlookers assumed that Fer overhit a pass to Marshall, but after the game he admitted it was deliberate.
He said: "I meant to score. I was trying to win the game."