Manchester City delete tweet praising Martin Demichelis's performance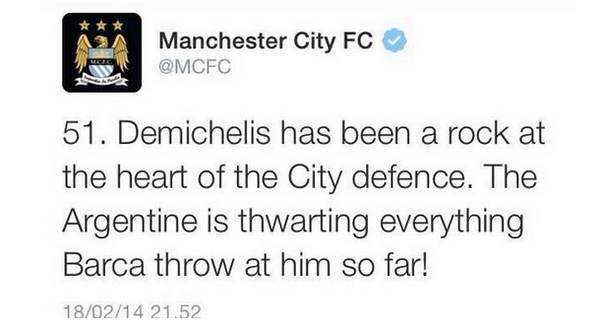 Manchester City deleted a tweet they posted praising Martin Demichelis's performance just moments before he was sent-off.
In the 51st minute of the game, City's official Twitter account wrote: "51. Demichelis has been a rock at the heart of the City defence. The Argentine is thwarting everything Barca throw at him so far!"
But just two minutes later Demichelis was shown a red card for denying Lionel Messi a clear goalscoring opportunity. He brought down the Barcelona star as he raced through on goal.
The tweet was hastily deleted.
Instead, City had to report: "53. Red card for Martin Demichelis who brings down Messi. The Argentine out-stretched a leg but couldn't get there."