GIF It: Jon Walters' overhead volley into his own face (Stoke City 0-4 Chelsea)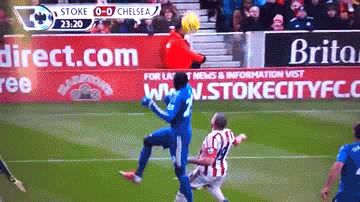 Stoke City's Jon Walters had a bit of a nightmare against Chelsea yesterday. Not only did he score half of the Blues' goals in a 4-0 defeat for the Potters, he also managed to miss a penalty.
But his embarrassing afternoon started with the excellent attempted overhead cross, which he volleyed into his face, Chris Brass-style.
Perhaps this unexpected blow to the head helps to explain what followed.